We were scheduled to head to Glacier National Park. We had been excitedly waiting to go. As she often does: Mother Nature had other ideas. The smoke and wildfires had been spreading and the air quality was known to be poor with low visibility. We maintained hope that we would still be able to go until we heard that an old historic lodge in Glacier burned down and roads were starting to close in the park due to the spreading fires.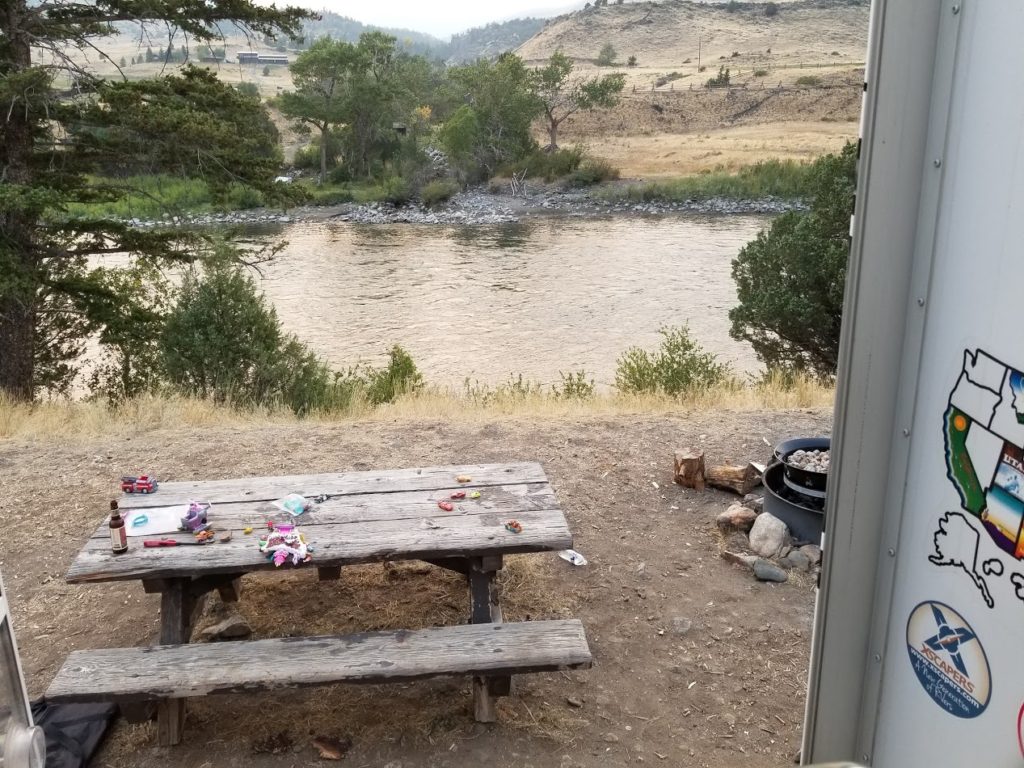 Were we bummed? Yes, but plans change. We decided to change course and meet up with some friends. The Blokzyls had invited us to meet up with them right outside of Yellowstone National Park for a week of dry camping and boy were we glad we did. The boondocking spot right by the Yellowstone river was amazing. River views. Picnic tables. Friends near by! We had a great time and were able to stay about a week and a half before the fair weather turned wintry.
We had a fun time playing with their little boy (Eliza's baby friend). We enjoyed the riverside beach, hiked all around Mammoth Hot Springs and enjoyed two dips in the 'boiling river'. Fun times. We even enjoyed a hilariously chaotic dinner out with them: 3 kids 5 and under reeking havoc on a pub. We had met up with this family at a family rally in Tucson last year and knew we would meet again. Thanks for all the fun memories!
We were sad to part ways but we were headed South and they were headed West. Winter was nipping at our heels in Yellowstone and we left the area just as a storm was brewing.
Kevin and I had both explored Yellowstone in the past but we did take a day to see the highlights with the girls. Here's a tip to anyone going to Yellowstone in the future: don't plan to visit hot pools of water in cold temperatures because all you'll see is a thick steam. Also, the masses of foreign tourists in the area were unreal (especially around Old Faithful) and really put a damper on us having a good time.
Grand Teton National Park is breathtaking. One of Kevins favorite parks (he had previously backpacked across the Teons with his friends several years ago). We were fortunate to get a fantastic boondocking spot on Upper Teton View with an amazing view of the mountains. Unfortunately the internet was almost non-existent so we could only stay here for a long weekend but we enjoyed every minute of it!
We took the boat across Jennie Lake to some lovely hiking on a beautiful Grand Teton day. Temperatures while we were there were quite cold and we did get a dusting of snow one day. We knew the area was teetering on the edge of winter; in fact, the very next day after we left, the Jackson hole area received its first significant snowfall that shut down some roads!