We loaded up on groceries, said our good byes to friends and family, and hitched up. Kevin wanted to get West ASAP and we agreed on Big Bend. 1,608 miles and about 30 hours later we had arrived March 16th. Florida was starting to get swampy hot and humid and the cooler temps and no humidity felt good. We were boondocking at a huge site right inside Big Bend (at Government Springs) and used our newly procured (used) Satellite Internet setup for the first time. Truth be told it really worked flawlessly and I was able to use it to work there. Eloise also used it for school which is perfect.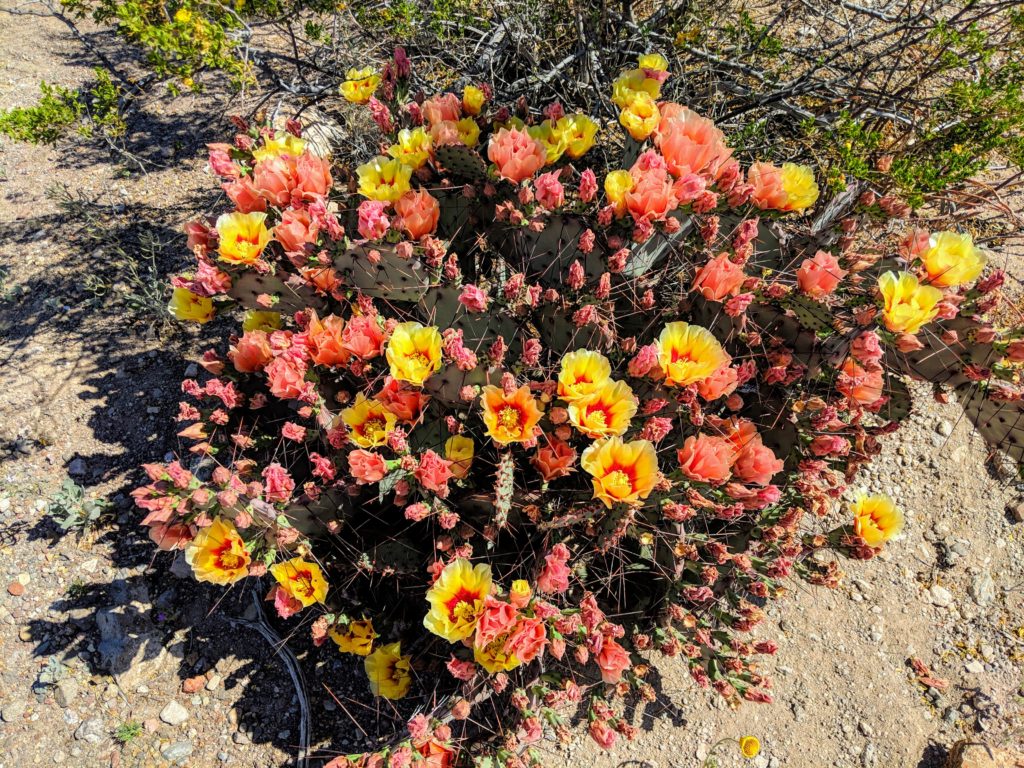 Big Bend was amazing. Honestly I had not heard much about that National Park but it was beautiful and has since become one of our top 3 favorites. The desert wildflower bloom was in full swing and the bluebell fields were so surreal. Kevin had found online that another fulltime family was also visiting Big Bend and had arranged to go on a Jeep ride with them–the Kroekers. Honestly I was tired of meeting new people but Kevin was right–they turned out to become great friends of ours and we were so glad to have met up with them! Together our families enjoyed a soak in the hot springs, a cookout, several hiking trails, and dinner out at the lodge. This is also where Eloise earned her first Junior Ranger Badge–she was so excited. It was nice to really get to take our time in this park and not feel rushed. We stopped in at all of the visitor centers, hiked the Boquillas canyon trail, checked out the fossil bones exhibits. Kevin and fellow dad Josh hiked to the top of Emory Peak–the highest peak in the park and to the top of Guadalupe Peak the highest Mountain in Texas in nearby Guadalupe National Park. We also had the worlds best barbecue in Terlingua, TX at DB's Rustic Iron BBQ. *Drool*
After Big Bend we traveled North to Carlsbad Caverns. The Kroekers joined us there a few days later and we all went on the Natural Entrance cave hike. Carlsbad cave is massive. Beautiful. We boondocked a short distance from the park and met up with a handful of other families in the area too and enjoyed several group campfires and talks.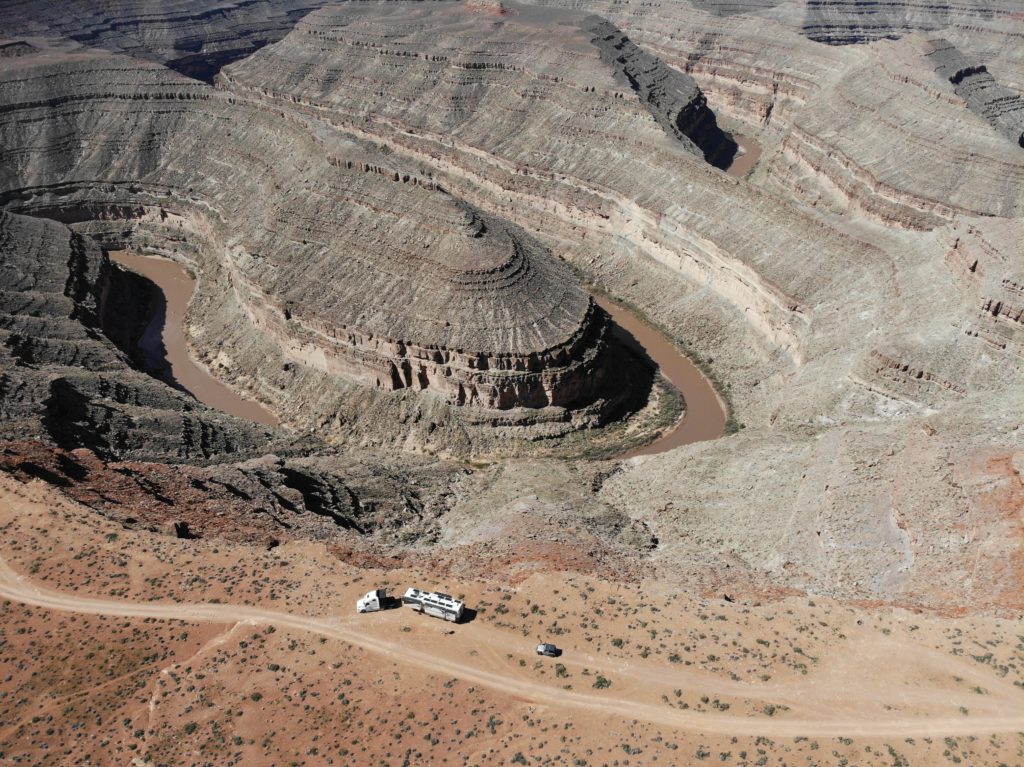 We were inching our way towards Moab, Utah for a meetup but still had a little time left so we stopped for a few hours at Roswell, New Mexico and ate at a space-ship shaped McDonalds with a playplace. The girls got a kick out of all the alien signs through town. We continued on up to Goosenecks State Park in Mexican Hat Utah which was beautiful. We camped right on the edge of the canyon and it was very picturesque. Due to the steep cliffs right outside our door we put up the babygate on our front door and did not let Eliza outside without her kiddie 'leash' on at all times. There was no horseplay here. Yikes. We took the scenic Moki Dugway up to Natural Bridge Monument with out Jeep before heading up to Moab.