Once we got the call from Keystone that our camper was 'ready' we packed and left. Our goal was to make it to Glacier National Park; we knew that fall and winter came early up there: therefore we had to get our butts in gear.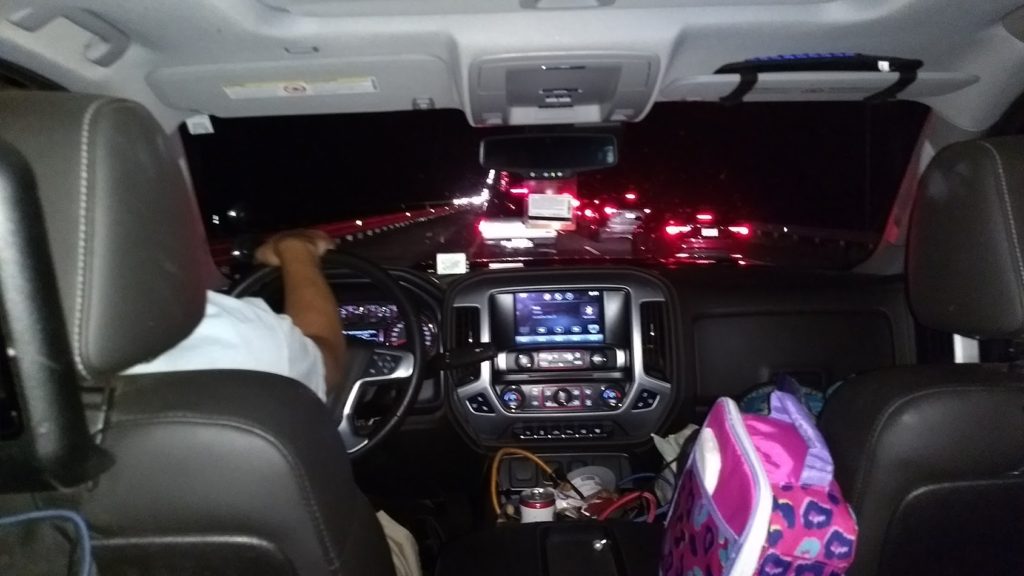 We left Maine, drove straight to the Keystone factory, grabbed the camper, got all of the items out of our storage unit in Elkhart, IN and hit the road to Missouri just in time to be in the path of totality for the solar eclipse!
Let me break that down for you:
Thursday: with 2 small children we drove 1,067 miles straight through the night in our truck arriving just as Keystone opened for the day. Yawn!
Friday: Once we saw the camper at Keystone we realized that they were not really ready for us to pick it up and a few more items needed to be addressed. (Not surprising at all) We wandered around the local Walmart getting supplies while they finished up. Once the unit was truly ready we drove across town to our storage unit with 2 kiddos who were more than ready to get out of the truck. (Thankfully I had arranged for a helper to help us unload the storage unit items back into our camper. Without this hired helper I found on uhaul.com Kevin would have been unpacking items for the rest of the day.) We spent the night in the area putting all of our junk back into its rightful place.
Saturday: The next day, things were still a mess. We organized a bit more, bought more supplies at Walmart, and then hit the road late in the afternoon towards Illinois.
Sunday: We were able to say hi to my Aunt Mary and Uncle Dick who were kind enough to drive down to meet us in the middle of nowhere IL (te Chebanse KOA) for a Sunday morning visit. We chatted and watched Eloise swim around in the unheated outdoor pool. Brr! We left later that afternoon to drive another 300 miles to Missouri to arrive just in time to be in the path of totality for the eclipse. Solar eclipse traffic heading down from Illinois to Missouri was not as bad as the rumors we had heard but still added a good 2 hours to our trip. Fun! (At least driving through Illinois was mildly interesting: miles and miles of corn as far as the eye can see!) We parked next to another fulltime family who invited us to their grandparents house in St. Genevieve, MO to view the eclipse.
Monday: Solar eclipse day. It was amazing: the eclipse, the hospitality, the friendship. We had a lovely time. The experience of being in the path of totality was neat. We stayed to visit with them for a few days of rest while Eloise and Eliza enjoyed playing with their 2 girls. We parted ways at the end of the week as we were headed North and they were going South. Until next time Rackovans!