Once safely back on US soil Kevin and Verla headed off to the San Diego airport; I think they were pretty happy to be headed back home to the cold frozen tundra of Maine. We took two days to explore San Diego with them before they left and enjoyed some yummy food, we walked across town to the Fleet science center, and we even had a date night out on the town just the two of us!
We stayed another few days in San Diego after they left to explore the area and wait for RV parts to come in. There was quite a bit of damage to our rig (from driving on Mexican roads) that needed to be repaired before we took it back on the road again safely. We got new airbags, new leaf springs etc. The girls and I had a playdate with another fulltime family in the area, we visited the local parks, and we enjoyed riding our new scooter around the smooth pavement at the Elks Lodge RV Park in San Diego where we were staying. (Because she donated her bike to the impoverished Mexican family we met at the tire shop Grandpa Kevin wanted to buy her a replacement bike. Eloise wasn't keen on bike riding so at the bike shop she picked out a scooter and fell in love with it.)
We stayed only a week in San Diego before we had to hit the road to Phoenix. It's about 350 miles and we did it in 2 days. I had made arrangements to meet up with my new employer for training and orientation and to get my badge made so we had no wiggle room in our schedule. I was starting a new job working from home as a pharmacist processing inpatient and outpatient prescriptions nights and weekends. Everything went smoothly and after a few days of training I was nervous but was ready to go. In total I took about 18 months off from working and it was good to get back into it. I started immediately working anywhere from 18-32 hours a week and it was definitely tough to manage that plus kids, plus homeschooling, plus Kevin being busy working a fulltime job and doing all the RV driving. The days are long and we are still figuring it out. (<–This right here is why our blog is so far behind haha!)
We had another rally in Moab, UT we were headed towards. It was a long 450 mile drive up from Phoenix to Moab; we stopped for a long weekend in Flagstaff at the KOA and explored around the town; visiting the town indoor pool complex a few times. It was a chilly rainy weekend and we were ready to be out of the rain.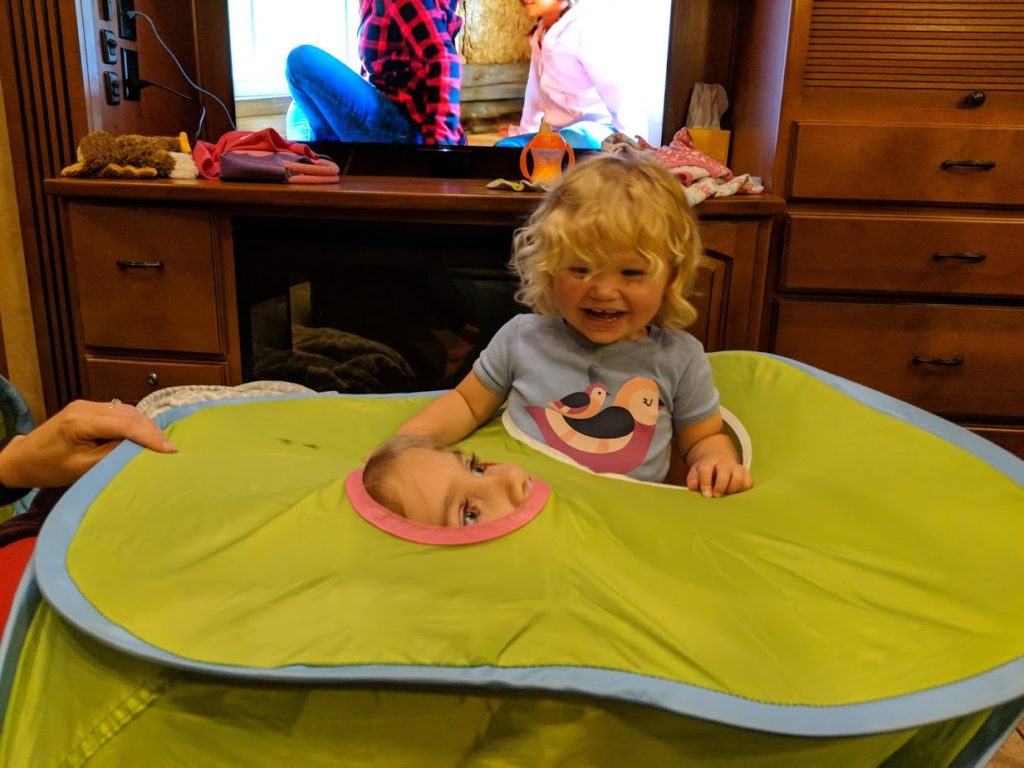 It was nice going back to Moab given that we had spent so much time there last year. We knew where everything was; it was familiar and comfortable. Kevin was excited to do mountain biking and the girls were ready to enjoy the parks and town pool. I signed Eloise up for 6 weeks of one on one swim lessons. We bought a pass to the pool and both of the girls really improved in their swimming during this time period. It was great.
This rally was part of the Xscapers and it was their Moab Convergence. It was held at an old abandoned airport airstrip in Moab which made for nice level parking; there were about 50 rigs there and we had a great time. We celebrated St. Patrick's Day with them, had numerous fires, pot lucks, and socials and made great friendships. Kevin went on several mountain bike rides with that crew and we joined in for a few hikes too.
The days turned into weeks and all totaled we were in Moab for about 6 weeks. After the main rally was over us and several others stuck around to hang out and explore the area together. We enjoyed the famous Moab Easter Jeep week. We had friends visit (Eloise's friend Hayden) and made new friends (too many new friends to count!). In fact here we were in Moab, UT in March/April camping with no hookups and met up (unplanned) with 5 other fulltime families who also happened to be in the area that same time as well. We parked near each other and enjoyed visiting while the kids played. We rented a jeep to ride the trails with friends twice. We did an Easter egg hunt at Swanney City Park. We hiked several arches. We enjoyed the sunset at Dead Horse Point State park. Kevin's friend Nate flew in from Maine to go mountain biking on the amazing Moab trails.
We met up with our friends from the Mexican rally Lynne and Michael and hung out with them for ten days; Kevin even helped them install a solar system. It was a fun time but eventually it was time to head East.
We love you Moab and you'll always have a special place in our heart!