They were long days but we finally made it back up to Maine. One final road in Massachusetts just before we got back onto I-95 was bumpy. Really bumpy. We had been on rough roads before but this was bad. Our newly upgraded trailer suspension had been giving us amazingly smooth rides so we shocked how bouncy both the truck and trailer felt all of a sudden. We shrugged it off. We kept going. Finally, we made it. We were happy and unpacking so of course it was time for something to go wrong. I was opening our final slide and it just wouldn't go out. I summoned Kevin. He wasn't happy. After much deliberation it was decided that something had fallen and was preventing the slide from opening. It was the kids room. We could barely get the door to their room open (it opens about 8 inches with that slide in) so we couldn't see what it was that was stopping it from opening.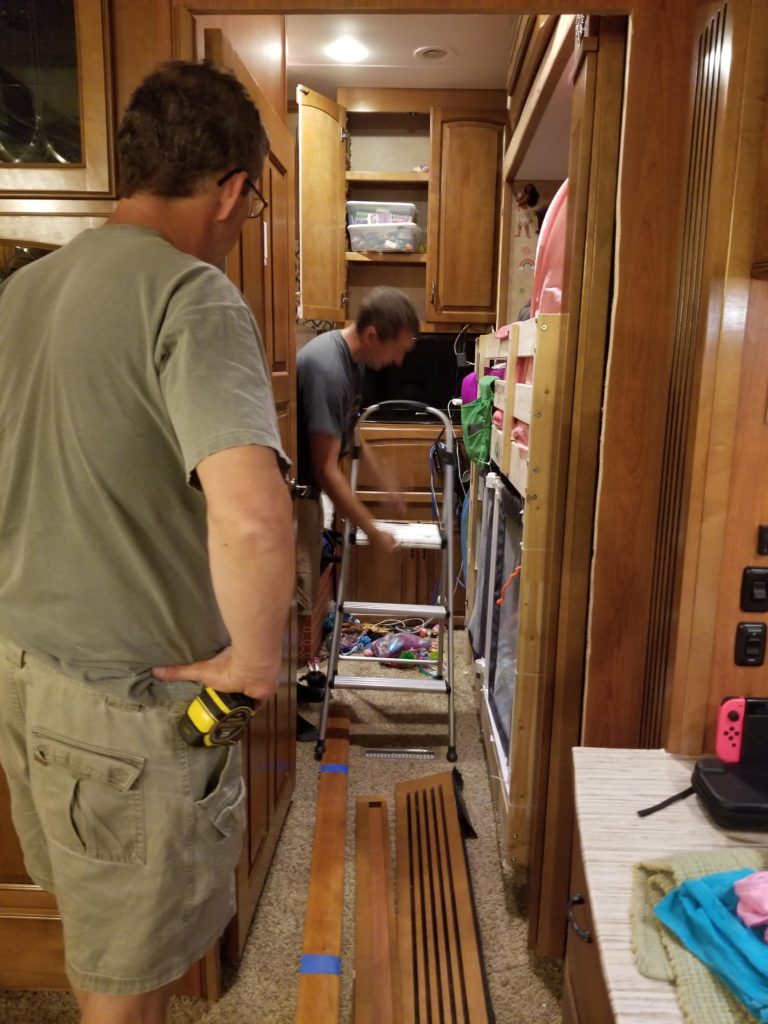 Kevin took the door and frame off and noticed it just wide enough to maybe get a kid in there. Eloise was volunteered. She was boosted up on top of the slide and with a cell phone and took a photo of what was in the way. She was able to push the junk that had fallen out of the way enough so we could get the slide open. Turns out that on a big bump one of our cabinet doors had opened spilling toys down. The half-open door got caught as the slide was opening and broke in two. Fun. At least it was open and we didn't have to break a window to get in!
We settled in our moochdocking spot and were glad to be visiting with family in Maine. Kevin and his Dad started working on home improvement projects (including fixing all the broken pieces from the broken cabinet door). Then he had several work commitments that required him to go into the office. Needless to say he was crazy busy and we didn't see much of him. The girls and I focused on school homework and visiting family. Also somewhere along our trip North we had picked up a nasty respiratory virus which I had for over a month! (I'm sure working nights didn't help my recovery tho)
We stayed in Maine from June to October. We moved around the state every 2 weeks visiting all of our family from both sides. Some highlights: the girls' joint birthday party at a state park, my brother's wedding in New York to Auntie Caitlin, music concert and activities at the KOA with Grammie Carol and Grampie Greg, playing with Memere and Bompah at Moms camp, mini golf with Uncle Bub and Auntie Caitlin, playing toys with Grampie Kevin and Grammie Verla, canoeing down the Saco river like Pirates, sleep over with Nanny Sherry and friends, visiting our stationary friends Chase, Cayleigh, Connor, Grant, Lydia, Lucas, and our fulltime family friend Caellum. Our time always goes fast when we're in Maine!
We were scheduled to leave Maine in September, before the cool weather hit. Just then Kevin found just what he was looking for: our new tow vehicle!